Click

HERE

for the Narrative Analysis.
Here is my analysis of each character from most civilized to savage.
We do get some history on the protagonist and deuteragonist as to why they enlisted on the mission and a little bit of history of them before the flight but not much else nor even their first names. It isn't due to lazy writing but the fact that they have amnesia which makes sense as they were comatose in hyper-sleep through the use of

general anesthesia

. They were in such a state for over nine centuries them having long-term memory loss makes sense,
this is science fiction after all
.
Some people confuse

back story

exploration as the equate round characterization and criticized the films along with others of having little to no characterization but these people but they are misinformed.
History
is only one aspect of character depth and it don't make a round character. Being a round character has more to do with personality is someone with complex personality, someone who is conflicted and
contradictory(

read

).
Plus this is plot driven, not
character
driven.
I'm going touch the
three dimensions
of each character, except Gallo and the hunters since I already talked about them on the previous post.
First Dimension: Surface traits, quirks, and habits
Second Dimension: Back Story and Inner Demons
Third Dimension: Action, Behavior, and World View
First Dimension:
Our protagonist is a mechanic engineer and an average guy who
wields a Yaujtia-like non-lethal weapon but could be dangerous up close.
Bower has multiply struggles like saving the ship, his spouse, humanity, and his sanity.
Second Dimension:
He remembers his profession very well but not much of his personal life.
He remembers watching the discovery of Tanis on television as a child being fascinated by the idea of establishing civilization there.
He does remember his wife, Evalon, mouthing the words "I love you" whom he believed was on the ship and hopes to found before the Hunters do. However, when his memories slowly return to him he founds out that his wife left him. Supposedly, he had nothing left after his divorce, so he pursued something he was fascinated with since childhood and make history. This infers that he was sorta loser back on Earth where Evalon
remained, disappearing along with it.
Three Dimension:
Like a real person Bower has his strengths and weaknesses. He
is a claustrophobic having the fear of no escape. When he wakes up in a hyper-sleep pod he panics due to being in a the enclosed with no way out,
he panics when he gets stuck in a tight vent where has to calm him down. Having to walk through a claustrophobic environment similar to the Nostromo only makes things more uncomfortable.
Bower starts off as a scared technician but when he realizes that his wife could be in danger starts to act more level-headed through out the film in order to save her...while falling like nineteen times
.
He's
a boy scout, someone with high moral and ethical standards.
He tries to save Shepard(
Norman Reedus
)
and a Russian passenger
(
Jon Foster
)
from being eaten.
When he and Nadia escape in a hyper-sleep pod flooded with water he selflessly gives her the oxygen mask and he holds his breath.
He's
insightful,
understanding motive behind
Nadia and Leland's actions, that's
felt like every man for himself. He acts as the voice of reason saying
"
a little f**king solidarity goes a long way
" he states.
Bower isn't always level headed and can be selfish himself, he's a flawed human being. As the truth that all their families are dead and the truth about his wife is enough to make him apathetic. He truly feels that there is nothing left to live for as every one he ever loved is now gone, thus sees no point in going on.
Even though Evalon left him Bower clearly still loves her as kept a photo of the woman.
However, he is told that they were meant to go on and meant to survive. Those words apparently worked because later on he says to Gallo that there will
always
be law but still struggles to keep his sanity. He barely does in the end and puts
his head on Nadia's in relief that they have survived.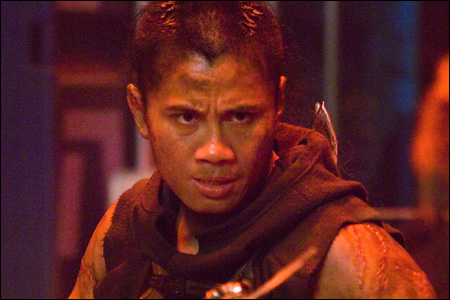 First Dimension:
A spear wielding Vietnamese agricultural expert and martial artist who's name ironically means "strong". A minor character who appears to have just awaken wake and speaks no English. He's both a flat and stock character that is mostly a storytelling device to infer that the mission is a global endeavor involving many cultures which was indicted by the transmission in broadcast in several languages. It kinda makes sense that some of the passengers didn't speak english with memory.
There are no subtitle for his lines and that is because we are to be in the main character's shoes, as Cung Le stated in this interview.
Second Dimension:
Lacking in this category due to his lack of communication.
Third Dimension:
Mahn with his "
If I'm going down, I'm not going down without a fight
" strong-willed attitude which he displays when the hunters close in even though he knows he is physically outmatched. He just doesn't take crap laying down as shown when he tries to attack Leland for his actions.
He is a cooperative boy scout like Bower. He's the only survivor Bower has come across who isn't selfish. He saves the lives of strangers just out of pure civility in this bleak and
he's heroic as puts himself in danger so that Bower could save the ship. Though his civility helped saved humanity leads to his demises, making him hesitate to kill a hunter child who take advantage slitting his throat(kinda contrived).
First Dimension:
She is the tritagonist
and basically a homage to Ripley who's name ironically means "hope".
Yes, s
he's attractive but that's just a character trait which is never brought to the forefront and her gender is never really called attention too. She'll also not a love interest as Bower has a ex-wife to worry and grieve about.
Her and Bower do develop some chemistry during the third act but not romance chemistry.
Like Mahn s
he uses a weapons such as knives, is athletic, and has unorthodox fighting skills.
Also like Mahn her character
infers it a global endeavor as being German but she speaks English fluently but is more developed.
She also has an
interesting quirk of her's is being a

entomophagist
offering Bower a grasshopper to eat claiming that it is "good for protein" which he accepts and they eat them together, which disgusts Mahn.(image above)
Second Dimension:
Before the flight she was apart of the
Brandenburg Institute genetic sampling team located in Germany. She spend seven years collecting and readying earth's biosphere for the trip to Tanis. Her motive for enlisting on the mission was that it didn't felt right handing it off the genetic samples so she volunteered to go along with it. This infers that she was a
workaholic
back
on Earth, addicted to her work
.
She's been hiding around in a housing container with food shored before getting the door to an Embryonic chamber open.
A
wake for months thinking that there
wasn't any flight crew left.
There use to be five of them that protected the chamber as holds livestock, wildlife re-population, and Ecological development, the world they are going to live in as she puts it. But fears that without the reactor working it won't make it time to Tanis.

Third Dimension:
Nadia is what the japanese call a

tsundere

character as she goes through a subtle character change. Initially, an egoistic
survivalist about self-
preservation who acts as a
ruffian
mugging Bower at knife point threatening to gut him if he resists. Taking his supplies and demanding his shoes, as she only has yoga socks on her feet that exposes her toes and heels. She does it again later on but Mahn intervenes. She is willing to leave people behind if they slow her down as
running is always the best option as she states
.
She
displays a irritable and aloof attitude putting a knife to Bower's neck when he touches her and give him lip a few times. This is understandable considering what she been through for months and is
also sadden by the fact that she
knows everything about the vault's systems but not much of herself, like where she grew up or her brother's name.
However, she's n
ot devoid of altruism as shown d
uring her second mugging where Bower resists her she shows compassion
after making
Bower fall from a great distance, contradicts herself by asking if he is "okay" instead of gutting him. She clearly has a problem hurting others and doesn't have it in her to actually gut someone, its just tough talk. She was
desperate
to survive in a situation with no rescue or turning back.
She believed there wasn't any crew left to fly them where they were going
which made it every man for himself as Bower puts it.
This condition has lead her to become a
cynical
lone wolf
who
doesn't immediately join with Bower like Mahn, asking if she could trust him
. That's because it is dog eat dog as shown with
Leland who tries to
kill her, Mahn, and Bower to use them as food.
Whom goes for her first but Bower stops him.
S
he becomes very sympathetic towards Bower because of this and cares about him founding his wife. She gives him some emotional support after founding out the truth about their families, firmly telling him that Evalon
saved his life by leaving him. Now s
he acts as the level-headed voice of reason when Bower starts to give up on the mission. She preaches
anthropocentrism, softly telling him that humanity was meant to go on, survive, and now its more important than ever
as they are all that's left of humanity. Her speech makes
Bower
resilient and she helps save his sanity.
In return he risks drowning for her and comforts her after they survived the ordeal,
firmly telling her "its safe to wake up now" making her smile.
Leland (

Eddie Rouse

)
First Dimension:
Leland is an old hermit cook. He tells what happens on the ship based on the accounts of other passengers say "
that's what some would say
" whom I assume were people Gallo drove insane.
Second Dimension:
He has survived for years by killing, cooking, and feeding on both humans and hunters.
He states that he wouldn't have survived this long if he had a heart(aka
altruism
).
Third Dimension:
He is more extreme version of Nadia, a survivalist who is about self-preservation and didn't think there was any crew left,
but is willing to kill
. Stating he didn't survive this long trusting strangers and proves this points himself.
He displays
dishonesty by being funny and
offering the group soup stating it is "Kosher" before revealing his true selfish intentions.
His behavior pattern is consistent as he shuts the door behind Bower and Nadia when they try to get to the control room as they are being chased by the Hunters. Which leads to him getting killed by Gallo, if he had waited for them Bower would have subdued Gallo.
Its just survival of the fittest or maybe the brightest as he puts it. He believes that there is really nothing else to live for other than to go by survival instincts and live as long as he can. E
arth is gone so no rescue and they lost control of the ship so no escape.
He doesn't just say it isn't personal, as like Nadia he truly doesn't want any blood on his hands. Bower states that he understands his actions, stating that he did what he had to do to survive and no one was going to judge him. Then Leland's facial expression and body language shows signs of guilt for he what he has done(image above) and doesn't want to be judged. This actually humanizes him showing he actually does have a heart and his action are out of pure desperation. He does sympathize with Bower about the fate of his ex-wife viewing it as tragic but says they have to move it on as he is sick of this s**t.